Pain with your Golf Swing? You might have Medial Epicondyli
MEDIAL EPICONDYLITIS:
Medial epicondylitis or 'golfer's elbow' is mostly a tendinous overload injury leading to microtearing. Thereby tendon degeneration appears instead of repair. The most sensitive region is located near the origin of the wrist flexors on the medial epicondyle of the humerus. Sometimes the patient also experiences pain on the ulnar side of the forearm, the wrist and occasionally in the fingers.
CAUSES: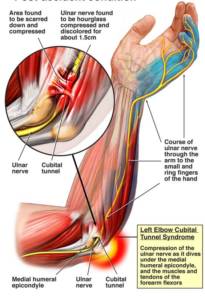 Serving with great force in tennis or using a spin serve
Weak shoulder and wrist muscles
Using a too tightly strung, too short, or too heavy tennis racket
Throwing a javelin
Carrying a heavy suitcase
Chopping wood with an ax
Operating a chain saw
Frequent use of other hand tools on a continuous basis
Â
SYMPTOMS:
The most common symptom of medial epicondylitis is pain along the palm side of the forearm, from the elbow to the wrist, on the same side as the little finger. The pain can be felt when bending the wrist toward the palm against resistance, or when squeezing a rubber ball.
The symptoms of medial epicondylitis may look like other medical problems or conditions. Always see your doctor for a diagnosis.
TREATMENT:
At Elite Pain Care we provide a total body treatment plan that consists of 3 phases. In the 1st we focus on eliminating your pain and alleviating your symptoms. In the 2nd phase of your treatment plan we focus on rehabilitation with physical therapy to increase strength and flexibility. In the 3rd phase of treatment we provide overall wellness. Wellness care provides patients with preventative care and includes personal fitness training, nutritional counseling, postural improvements as well as stress and anxiety management.
Treatment plans include: Spina Adjustments, which aids in the proper alignment of vertebrae in the spine and remove pressure on nerve roots alleviating pain in the neck. Muscle stimulation to increase blood flow, enable faster recovery of muscle soreness, clears lactic acid and increases fresh oxygen and nutrients. Soft tissue therapy increases range of motion, increases flexibility, and it provides you with proper joint function. Physical therapy is a rehabilitation phase of your treatment where our goal is to increase strength, flexibility and range of motion of your joint.