Important Facts about Arthiritis
ARTHRITIS:
Arthritis is a joint disorder featuring inflammation. A joint is an area of the body where two different bones meet. A joint functions to move the body parts connected by its bones. Arthritis literally means inflammation of one or more joints. Arthritis is frequently accompanied byjoint p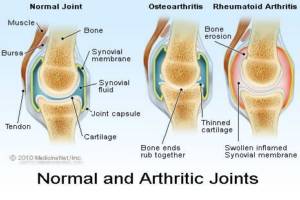 ain. Joint pain is referred to as arthralgia. When four or more joints are involved, the arthritis is referred to as polyarthritis. When two or three joints are involved, it is referred to as oligoarthritis. When only a single joint is involved, it is referred to as mono-arthritis.
CAUSES:
The causes of arthritis depend on the form of arthritis. Causes include injury (leading to osteoarthritis), metabolic abnormalities (such as gout and pseudogout), hereditary factors, the direct and indirect effect of infections (bacterial and viral), and a misdirected immune system with autoimmunity (such as in rheumatoid arthritis and systemic lupus erythematosus). Arthritis is classified as one of the rheumatic diseases. These are conditions that are different individual illnesses, with differing features, treatments, complications, and prognoses. They are similar in that they have a tendency to affect the joints, muscles, ligaments, cartilage, and tendons, and many have the potential to affect other internal body areas.
SYMPTOMS:
Joint pain can be caused by injury affecting any of the ligaments, bursae, or tendons surrounding the joint. Injury can also affect the ligaments, cartilage, and bones within the joint. Pain is also a feature of joint inflammation (arthritis, such as rheumatoid arthritis and osteoarthritis) and infection, and extremely rarely it can be a cause of cancer of the joint.
Symptoms and signs associated with joint pain can include
Joint redness,
Joint swelling,
Joint tenderness,
Joint warmth,
Limping,
Locking of the joint,
Loss of range of motion of the joint,
Stiffness,
Weakness.
TREATMENT:
At Elite Pain Care we provide a total body treatment plan that consists of 3 phases. In the 1st we focus on eliminating your pain and alleviating your symptoms. In the 2nd phase of your treatment plan we focus on rehabilitation with physical therapy to increase strength and flexibility. In the 3rd phase of treatment we provide overall wellness. Wellness care provides patients with preventative care and includes personal fitness training, nutritional counseling, postural improvements as well as stress and anxiety management.
Treatment plans include: Spina Adjustments, which aids in the proper alignment of vertebrae in the spine and remove pressure on nerve roots alleviating pain in the neck. Muscle stimulation to increase blood flow, enable faster recovery of muscle soreness, clears lactic acid and increases fresh oxygen and nutrients. Soft tissue therapy increases range of motion, increases flexibility, and it provides you with proper joint function. Physical therapy is a rehabilitation phase of your treatment where our goal is to increase strength, flexibility and range of motion of your joint.